FRED KIROKO : Innovator providing affordable housing
_   Fred Kiroko, 54, is the proprietor of Makiga Engineering Services Limited, a 23-year-old company committed to providing affordable, eco-friendly and long-lasting construction equipment. The interlocking soil block press,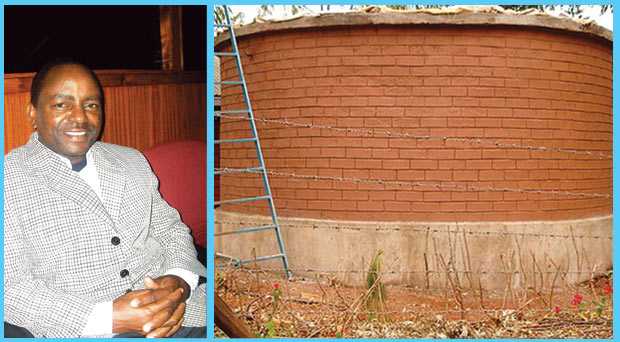 Fred Kiroko, 54, is the proprietor of Makiga Engineering Services Limited, a 23-year-old company committed to providing affordable, eco-friendly and long-lasting construction equipment. The interlocking soil block press, a unique manual machine that makes durable building blocks from soil, is one of Fred's innovations that has been instrumental in creating affordable housing in different parts of Kenya and beyond. Fred is also a bishop at the Abundant Life Centre in Nairobi. He talks to EDNA GICOVI about making a difference through his business and ministry.
Mr. Kariuki Kiragu's most rewarding work to date, as an architect, is the Nyumbani Village in Kitui, a rural development programme in the semi arid area, which has been running since 2004. The project involves the resettlement of 1,000 orphans and 125 bereaved elders on 1,000 acres of arid land. The houses are built with interlocking stabilised soil blocks (ISSB), fibre concrete tiles and other construction materials.
Kiragu found out about the interlocking soil block press, the machine used to make the ISSB, and also met Fred Kiroko of Makiga Engineering Services who crafted the machine, while working on a different project. He was impressed by the machine's ability to cut building costs, as it was affordable and easy to use, even creating gender equity as women could also operate it.
For the project, the Nyumbani Village made use of about 500 men and women with very little prior construction experience, who first underwent construction training and then organised themselves into 30 community groups in order to get involved.
"This machine will be very useful in resolving unemployment and the housing problem in Kenya," says Kiragu. The project also made use of roofing tiles made from a micro concrete tile machine, also from Makiga Engineering Services.
In Uganda, a part of the Lords Meade Vocational College near Jinja was also built using the ISSB in 2003. A classroom block and teachers' house constructed at the college have served as a model for similar developments in the future. Engineer Moses Musaazi, who oversaw the project, met Fred nearly 25 years ago and was involved in the designing of the interlocking soil block press during the initial stages of its conception. Over the years, Moses has also been involved in many more projects using the ISSB to build houses, tanks and other structures, both in Uganda and Southern Sudan.
Kiragu and Moses' are just a few, among those who have used the ISSB made by the interlocking soil block press, a machine that is Fred Kiroko's innovation.
Building his dream…
Fred Kiroko is the man behind the interlocking soil block press, a machine he designed and built more than two decades ago, that has grown to become a significant construction resource for affordable and environmentally friendly housing. From an early age, Fred had a knack for building and designing, even dreaming of crafting aeroplanes and ships. He frequently found himself tinkering with any tools and gadgets he could come across, many times away from his father's watchful eye. "I always hoped that one day I would create something great," he says.
Fred, the second of five children, grew up in a humble family in Murang'a. His parents were both small-scale farmers. After completing his primary school education in Murang'a, he attended Kiambu High School, where his involvement with the wrong company led to his poor performance in his final exams, despite having a lot of potential. Determined to make something of himself, Fred joined the Kitui Polytechnic where he pursued a diploma in mechanical engineering, in line with his passion for building and designing. He took a lot of pleasure in pursuing this course and excelled in it, even teaching at the polytechnic for two years, following the completion of his three-year training. "I really enjoyed training. My students usually did well and I made a name for myself," he says.
After this, he decided to make his way to Nairobi to search for a different job. He was confident in his abilities and looked forward to finding a well-paying job in his area of expertise. Nonetheless, job hunting was a struggle and his dream job was hard to come by. Fred spent several months searching, usually surviving on small jobs in fabrication (the building of metal structures by cutting, bending, and assembling processes) workshops.
He eventually found a job with K Kay Engineering Services, where he worked briefly fabricating parts of trailers, before moving to the Undugu Society of Kenya as a production manager and trainer in 1985. "They were looking for someone to head their production line where different machines were designed. I was also involved in upgrading students who had already attained certificates from government institutions," says Fred, adding that he was eventually put in charge of a workshop in Nairobi's Eastlands area.
The workshop was involved in steel fabrication and apart from overseeing every day operations and sourcing for customers, Fred also designed various machines used in construction during his time there. He gained a great deal of business acumen during the five years he worked there.
The interlocking soil block press…
During his time at Undugu, Fred conceptualised the idea of the interlocking soil block press, a unique manually operated machine that compresses soil stabilised with five per cent cement to make building blocks that are sun-dried. The building blocks made by the machine are known as interlocking stabilized soil blocks (ISSB).
These blocks are better than clay bricks as they increase the structural stability of built walls, while reducing the amount of cement needed as mortar. In addition, the ISSB are made onsite, thus reducing transportation, fuel, and construction costs. "These blocks are very strong because of the machine's high compaction force. When you see the bricks, it's hard to imagine they are only made out of soil," says Fred.
Establishing a company…
Fred left the Undugu Society of Kenya in 1990 to establish Makiga Engineering Services, a company that designs and manufactures different construction equipment. "I felt I had the skill and experience to sell products that I had designed or built myself at this point. I was aware of what I was going to make and knew that there was a market for these products," he says.
In spite of his optimism and self-confidence, Fred found the first few years rather challenging. "My marketing strategy was not very good. I also got a wrong location. When I started out, I was based in Kariobangi, which was not a very good location because of the surroundings. It would get very damp and rough when it rained," he says. In fact, between 1993 and 1994, Fred considered shutting down the company because business was not going as well as he had expected. "My products were unique but my location was not helping me much. It affected the pricing of my products and our profits were low," he says.
Nonetheless, Fred stuck on and was able to make some headway with the company. Apart from the interlocking soil block press, Makiga makes stone crushers for making ballast, the Makiga micro concrete tile machine used for manufacturing roofing tiles, water pumps, and grinding mills, among other machines.
Over the years, Makiga Engineering Services has partnered with NGOs and other organisations in Kenya, Uganda, Malawi and Congo in various projects ranging from construction of buildings, schools, homes and other premises, to training programmes that feature the local communities not only as a means of empowering them, but also as a way of realising their corporate social responsibility. The company has also cultivated a team of experienced personnel who are able to successfully see the completion of these projects.
Fred is proud that Makiga has been involved in the creation of affordable housing through the interlocking soil block press. "Profits are there and they are good but my joy comes from making a difference. I travelled to Malawi in 2003 and was taken to different sites by the British Council to see what my machines have done. I felt so good!" he says, adding that contributing to the society is very important to him.
"President Yoweri Museveni of Uganda has opened one of the schools built using the ISSB in Uganda. Here in Kenya, there's a project Makiga did with Jamii Bora Bank, the St. John's Church in Kangemi – both the church and classrooms, my own house and many others, that have been built using the soil blocks," he says.
Fred's prayer is that this machine can make a difference in the rural areas where structures made out of mud that wears and tears easily, are commonplace. "Why should people spend so much money or even use materials like mud, when they can use these affordable soil blocks?" he asks adding that affordable housing for most Kenyans is an attainable goal.
"We invite donors, the government, local manufacturers and any other well-wishers to work with us to fulfil Kenya's Vision 2030, which we are proudly part of in a bid to ensure that everybody has access to affordable and decent housing by the year 2030," he says.
Makiga Engineering is currently located in Nairobi's Industrial Area where they moved in 2007. Fred currently runs the company with his wife and his oldest son, and plans to open another branch of the company in Uganda.
Apart from being an entrepreneur, Fred has an advanced diploma in theology and is an ordained bishop. He founded the Abundant Life Centre, a ministry that he started in Nairobi's Mathare slum to reach out and give hope to people living in the slums. It has, with time, grown and birthed centres in Bungoma, Kitale, Murang'a, Ruiru, Meru, Webuye and Busia, and has its headquarters on Baba Dogo Road in Nairobi.
Zealous and dedicated to his ministry, Fred has been preaching for about 19 years in many parts of Kenya and has also had the opportunity to preach in South Africa, Malawi, Congo, Rwanda, and Uganda, among other African countries. "This is my calling and I pray that God may help me to bring many to his Kingdom," he says.
The importance of openness in marriage…
Fred met his wife Eunice when he moved to Nairobi in search of greener pastures. The two married in 1985 and have three children, Moses, 29, Grace, 26, and Samuel, 23. He believes that he and his wife have modelled what a good marriage should look like to their children. "I love and care about my wife very much and we discuss everything there is to discuss," he says.
Lack of openness in a marriage causes a detachment between spouses, according to Fred. He recalls an incident at a bank where he named Eunice as a signatory to his accounts and one the bank's staff asked him if he was sure he wanted his wife in that position. "Is this how bad things have become?" he asks with a chuckle.
"I have nothing to hide from my wife." Fred and Eunice don't only work together at the company, where she is one of the directors, but also spend a lot of time together. "God gave me a good lady who has a big heart and respects me," he says.
The two have brought up and trained their three children to be respectful and God-fearing. Fred says that it is essential to give enough individual attention to each child. "Take time to talk to your children and discuss important issues. Take them out and have fun together once in a while," he says. He adds that as much as it is important to instil discipline in one's children, parents shouldn't be unnecessarily harsh on their children, and should instead leave room for them to make mistakes and in the process learn important life lessons.
His desire is to see his children succeed in their different careers and also attain the highest level of education they possibly can. He admits that he would like to leave Makiga Engineering Services to his children when he and his wife are too old to run it. "I wouldn't want the vision to die with me," he says in conclusion.
In his free time, Fred likes to retreat to his countryside home in Murang'a where he spends time doing a bit of farming. He also enjoys travelling with his wife.
Published in September 2013