How to prepare spaghetti bolognese
Such a good,hearty comfort meal that never fails to please.Perfect for kids and adults alike,its a dish one should prepare when making something wholesome and delicious.It is even diet friendly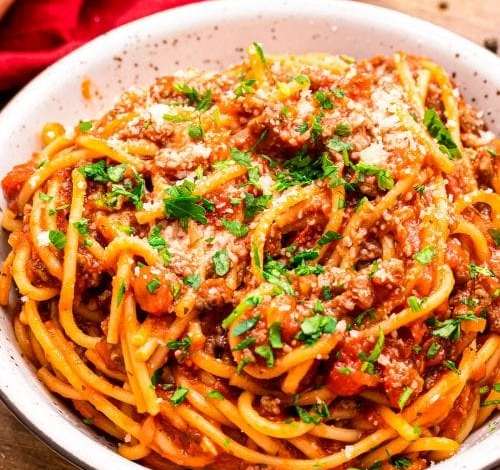 Such a good,hearty comfort meal that never fails to please.Perfect for kids and adults alike,its a dish one should prepare when making something wholesome and delicious.It is even diet friendly if you use spray oil and milk instead of cream.
Instant pot spaghetti[source:google]
Serves 4-5.
You will need:
1/2 onion, chopped
1 tbsp olive oil
1 tbsp garlic, chopped
2 medium carrots, grated
1 tbsp garlic powder/granules
1 tbsp onion powder/granules
1 tbsp dried mixed herbs
1 tbsp tomato purée
1 tbsp Worcestershire sauce
1 tbsp tomato ketchup2 tsp sugar (optional)
2 tbsp Parmesan/hard cheese, grated
1 tbsp fresh parsley, chopped
1 tsp black pepper
Salt (to taste)
Chilli powder (to taste)
500g minced lamb (beef or chicken works well too)
500g spaghetti/tinned tomatoes
350g pasta of your choice
1.5 cups water
100ml milk/cream
Recipe: Red bean and mushroom burger
By Chef Daniel Mungai(Emma Daniel Creations)
Procedure
1. Fry onion in oil on medium heat till translucent. Add fresh garlic and fry for 1 minute before adding carrots. Mix.
2. Add garlic and onion powder, dried mixed herbs, salt and pepper and cook for a minute.
3. Next add tomato purée, stir and then drop in the mince. Stir and break up any lumps with a wooden spoon. Fry for 5 mins till meat is browned (stir regularly).
4. Now add spaghetti, Worcestershire sauce and tomato ketchup, stir, cover with a lid and simmer on low heat for 1.5-2 hours. Stir every 15 mins to avoid catching.
5. Half way through add water and continue to simmer. This will help remove the 'raw' meat taste.
Banana Cake Recipe | How to Make Banana Cake | Tesco Real Food
Learn how to make banana cake with this easy banana cake recipe that makes the most of storecupboard ingredients and saves overripe bananas from being wasted.
6. After 1.5 hrs remove the lid and boil off any excess water if the sauce is too thin. Remove the kids portion to mix through pasta later. Add chilli powder and sugar now, and simmer for a further 5 mins.
7. Pour in milk/cream and mix in 1 tbsp Parmesan/hard cheese.
8. Cook pasta al dente(to be firm to the bite), add to the sauce and drop in 1/2 cup of pasta water. Add remaining Parmesan/hard cheese and parsley, and mix till fully combined. Taste and adjust final seasoning.
Serve with simple salad to make it a complete meal.
Feature photo:unsplash
The March Issue of Parents Magazine is here!
As we celebrate our women this month, we bring you the best stories and the most inspiring features to get you going.