Footballer McDonald Mariga has officially quit football for politics after he was confirmed as the Jubilee Party flag-bearer for the Kibra elections slated for November 7.The renowned player has confirmed that he is officially dropping football to venture into politics.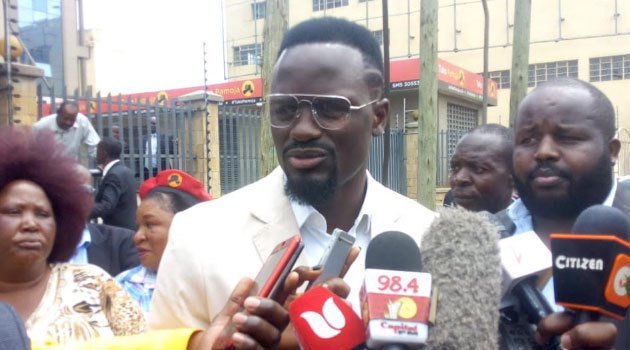 Mariga was accompanied by a group of cheering youth when he went to present his papers and after he was confirmed as the flag-bearer.
"I have retired from football and have decided to go and give back to the community," said Mariga
Also read: Footballer Mariga to vie for Kibra MP seat under Jubilee party
Andrew Musangi, the National Elections Board chair who was among the interviewers gave warm words during the confirmation of his nomination.
"I am pleased to announce that our vetting process has yielded a candidate of impeccable character and credentials, a person who has had an enduring connection with the people of Kibra," he said.
Also read: Kenya Airways record double loss
The 32 year old player has confirmed his good intentions promising to have solid intentions for the Kibra community.The renowned star affirmed that his decision to join politics was a longing desire to serve his people.
"I know the challenges facing slum dwellers, having stayed in Karanja estate in Kibra myself.I want to give back to the society."
The former Harambee stars midfielder called for a peaceful election and was hopeful that he will clinch the seat.His quest to politics has fuelled a lot of controversies among several Kenyans, most of them taking to twitter to air their views.
I stand to be corrected I think this is a long shot and its a very delicate experiment. Jubilee stands to lose nothing on this affair but Mariga might suffer as a guinea pig. At the same time the proponents may be embarrassed if it flops

— Raymond Kinyua (@RaymondKinyua)
Mariga candidature is an insult to the good people of kibra, Mariga is Ruto project and has already fall on arrival even before the by-election,

— Samson Young (@SamsonY93332443) September 3, 2019
Mariga should stick to football..nature youth and in his retirement coach new talents..Politics is a dirty game by Kenyan standards.

— John mitambo (@Johnmitambo1) September 3, 2019
The seat fell vacant after the demise of Ken Okoth in July after he battled with cancer