Matiang'i freezes assets of 9 alleged Al-Shabaab financiers
The Interior Cabinet Secretary Dr Fred Matiang'i has directed the freezing of nine people who are believed to be Al-Shabaab financiers. The nine are said to be operating in Kenya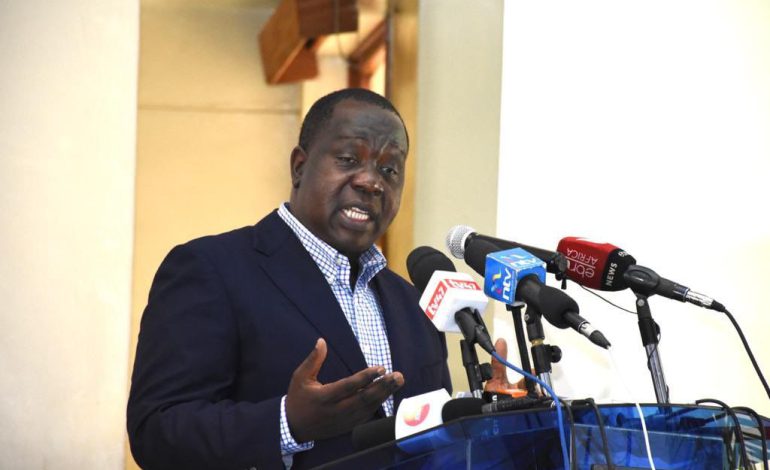 The Interior Cabinet Secretary Dr Fred Matiang'i has directed the freezing of nine people who are believed to be Al-Shabaab financiers.
The nine are said to be operating in Kenya even as they facilitate the Al-Shabaab militant group.
The nine include Halima Adan Ali, Waleed Ahmed Zein, Sheikh Guyo Gorsa Boru, Mohammed Abdi Ali (Abu Fidaa), Nuseiba Mohammed Haji, Abdimajit Adan Hassan, Mohammed Ali Abdi, Muktar Ibrahim Ali, and Mire Abdullahi Elmi.
1.7 million people lost their jobs in the second quarter – KNBS
A report released by the Kenya Bureau of Statistics (KNBS) on September 1, 2020, shows that 1,716,604 Kenyans lost their jobs between April and June.
"Today, acting under the provisions of Regulation 11(1) of the Prevention of Terrorism-POTA (Implementation of the United Nations Security Council Resolutions on Suppression of Terrorism) Regulations 2013, and having regard to the resolutions of the Counter Financing of Terrorism Inter-Ministerial Committee held on February 5, 2020, under the provisions of Regulation 13(1) of POTA Regulations 2013, I hereby order the freezing of funds and property of the following individuals and entities," Matiang'i said on Tuesday.
The Interior CS said that the government will continue holding the Al-Shabaab criminals and financiers accountable.
"We shall neither surrender into the hands of terrorism nor play into the narrative propounded by terrorists of discrimination along ethnic and religious lines in this war. The only way to deny terrorists the means to threaten our way of life is to choke their facilitation networks, and this is why I have published the foregoing list so that they can no longer finance Al-Shabaab's operations within our borders," Matiang'i added.