Teachers threaten strike that could disrupt national exams
The Kenya Union of Post-Primary Education Teachers (KUPPET) and Kenya National Union of Teachers (KNUT), have threatened to call for a nation wide teachers' strike next month to demand salary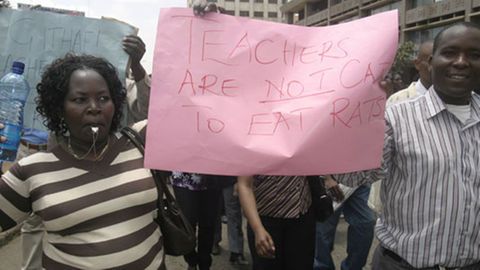 The Kenya Union of Post-Primary Education Teachers (KUPPET) and Kenya National Union of Teachers (KNUT), have threatened to call for a nation wide teachers' strike next month to demand salary increment.
In a letter addressed to the Teacher's Service Commission (TSC) on January 17, the teachers had demanded a 30% salary increment and threatened to down their tools if the commission did not give feedback in 21 days.
Among the list of demands, Kuppet is proposing a basic amount salary increment from Ksh. 34,955 to Ksh. 59,425 for the lowest-paid teacher and Ksh. 118,242 to Ksh. 153,715 for the highest-paid. They also want their commuter allowance increased from Ksh. 5,000 to Ksh. 8,500 for the lowest-paid group and Ksh. 16,000 to Ksh. 20,000 for the highest-paid cadre.
TSC, through Secretary-General Akelo Misoro, said it was looking into the demands and would respond in due time.
New priorities for teachers in class as schools resume
Teachers will now be forced to navigate their main roles as educators during this pandemic.
TSC plans to engage the unions in talks to avert the potential strike that could paralyze the administration of national examinations country-wide especially because most teachers are involved in invigilation and marking.
The examinations are slated to commence on March 7  for the Kenya Certificate of Primary School and March 14 for the Kenya Certificate of Secondary Education.
Valentine's Issue Cover Shoot with Producer Jacky B & wife Brenda Michelle | BTS |- Parents Magazine
WE ARE EXCITED TO ANNOUNCE OUR LOVE ISSUE, THE FEBRUARY EDITION, IS OUT NOW!😍😍😍Gracing the cover with love😍 are music producer Jacky B and his wife, acto…
Featured Image: Teachers in a past strike||Nation Africa