Uncle pleads with Kenyans to help save nephew with hole in heart
  SaveBabyPeterson How does a medical emergency look like for a common mwananchi  amidst the 50 day long doctors' strike? Somewhere in Githurai 45,  a family of five is hoping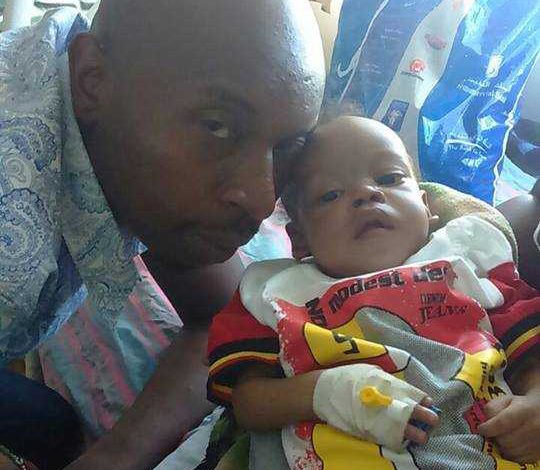 How does a medical emergency look like for a common mwananchi  amidst the 50 day long doctors' strike?
Somewhere in Githurai 45,  a family of five is hoping for a miracle.
George Njuguna and Mary Njoki went to Kenyatta National Hospital for assistance after their six-month old son Peterson  Mwaura became seriously ill. Imagine their dismay when they were told they could not be attended to as doctors were on strike!
This was just days after finding out their son had a hole in his heart.
Desperate, the parents found a doctor in the hospital's private wing who gave them sadder news. Not only was their NHIF card insufficient for the much needed surgery, the surgery itself was too complex to be done locally anyway as the expertise and equipment needed were lacking!
After reaching out to hospitals abroad, the family has found a hospital that can  do the surgery for a cost of Ks.2.5 M.  Money the family does not have.
In desperate plea and rush against time,  Peterson's' uncle,  George Muriithi Wamae took to Facebook to plead with Kenyans to help save  baby Peterson #SaveBabyPeterson
Courtesy:SaveBabyPeterson
Peterson's condition is known as a Taussing Bing Anomaly which entails an abnormally large heart, a  hole in the heart, mild pulse rate and misaligned arteries.
Courtesy:SaveBabyPeterson
Peterson is among the 5000 children born with heart problems in Kenya annually. Many families cannot afford the prohibitive costs of medical care for heart patients abroad as often the intricate surgeries cannot be done in Kenya, especially in leading public hospitals.
To help #SaveBabypeterson or get in touch with their family, contact:
George Muriithi-0711-274-000
Equity Bank A/c No. 0710171415232(Peterson Mwaura Medical Fund Account)
Equitel Paybill : 247247
Safaricom Til Number:625822(Mwaura-Njugu's Committee)