We found love at a prayer meeting
Robert Mwangi and Jane Waititu went for a prayer meeting in December 2016 not knowing they would come out on the other end having met their future spouse. They share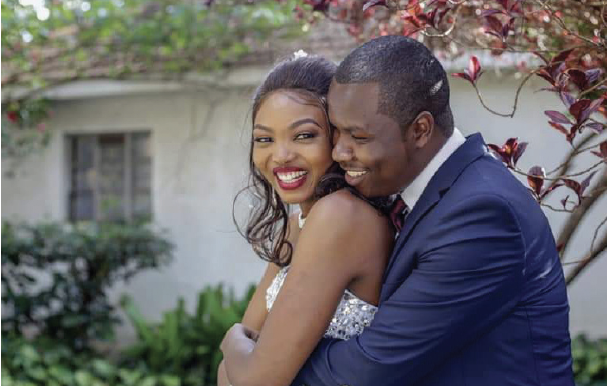 Robert Mwangi and Jane Waititu went for a prayer meeting in December 2016 not knowing they would come out on the other end having met their future spouse. They share with STEVEN OBUDO their journey to matrimony.
In December 2016, Jane Waititu, 27, and Robert Mwangi, 29, attended an end of year thanksgiving prayer meeting. Robert, a pastor and sign language interpreter, particularly had the intent of praying for a wife. Unknown to him, Jane had seen him first and noted that he had come with a lady. "I believed he was dating her and I thought they were 'goals'," she jokingly says.
This assumption, however, could not have been further from the truth. Having come from a work trip earlier, he had asked the lady friend in question to accompany him to the event. As the night wore on, a determined Robert outlasted his counterpart who had grown tired and went on to sleep. This prompted him to join Jane's group. This would be their initial point of interaction.
Intrigued by Jane's prayerful nature, Robert went on to check her out on Facebook. These checkups would eventually manifest into meetups, which left Robert smitten. In March 2017, he plucked up the courage to finally express the budding feelings he had developed for her.
5 easy tips to use when writing your wedding vows
Your wedding day is such a special moment for you and your partner. You might not remember some things about this day in future but you'll definitely remember the vows.
"I was from a toxic relationship and I wanted my next relationship to lead to marriage," he shares.
As he made his intentions known, he also shared about his past experience. Jane, a recording artist, pondered on the matter for a week as she hadn't envisioned herself getting married to a pastor. She would eventually give him a chance; a decision she largely attributes to his caring nature.
Two months down the road, their conviction that they were headed for marriage was so strong much to Jane's surprise. Despite coming from different financial backgrounds, she accepted him and even adapted to his lifestyle.
From the word go, his goal was to be open with his then girlfriend. He made it known to her that he came from a very humble background, a far cry from her well-to-do background. He even took Jane to his home for her to see for herself. To his relief, this was a non-issue to Jane and she expressed as much in both words and action. As a result, they are very vocal about couples being open and truthful to each other. This, they believe, sets the right precedent for a healthy relationship.
After dating for a while, Robert decided to consolidate the relationship by asking Jane to make an honest man out of him. "I wasn't expecting it. A friend and I had gone out and as we were talking, he appeared out of nowhere with placards asking me to marry him," Jane shares, adding that she gave a resounding 'yes'.
The next step, which was planning for a wedding, was not so well received by some family members. Robert comes from a family that views weddings as a formality and was opposed to their union.
As a result, the two had constant run-ins with family who strictly adhered to traditional practices and were taxing to deal with, almost to the point of making them give in. Nonetheless, powered by the help of friends and their determination, they got married on December 8, 2018 in a colourful wedding ceremony.
They gleefully term the wedding as a beautiful and convenient occasion. This is especially so since they managed to have their wedding and reception at the same venue. One year down the line, the lovebirds remain inseparable.
Although they admit living together initially required getting used to, they have settled in seamlessly. Jane particularly attributes this to letting nature take its course as she has successfully eased into the pastor's wife role.
"He supports my singing ministry so why wouldn't I support his?" she concludes.
This article was first published in the January 2020 issue of Parents.
READ OUR LATEST ISSUE HERE: