WEDDING AT LAST! A Promise Finally Fulfilled
Wedding bells have been chiming in the Parents magazine family! Our editor, Lily Ronoh-Waweru, 30, recently wedded the love of her life, Johnson Waweru, 33. Theirs is a story of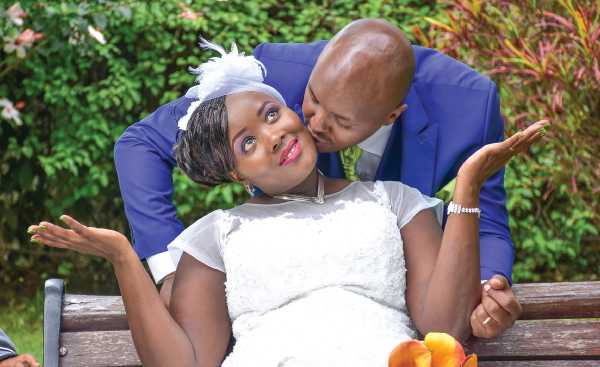 Wedding bells have been chiming in the Parents magazine family! Our editor, Lily Ronoh-Waweru, 30, recently wedded the love of her life, Johnson Waweru, 33. Theirs is a story of commitment and doing things differently as narrated to ESTHER AKELLO.
When Lily Ronoh-Waweru joined Egerton University in August 2006, she had her eyes set on books. But that changed in a day! "Johnson was among the student leaders orientating the freshmen and the minute we saw each other, let's just say, sparks flew," says Lily.
Johnson, then a third year student, agrees on the instant attraction albeit confessing his misgivings about university girls in general. Being the first member of his family to go to university, he had no prior warning as to just how wild campus life can get at times and the rude awakening he had when he joined had left a bad taste in his mouth.
"I am not a party animal but the few times I did go out with friends, I witnessed elements of misbehaviour especially when the girls got drunk. That just wasn't going to do it for me especially since I was a church person," says Johnson, a businessman.
When Lily came along, Johnson was convinced she was different and maybe just the one if he played his cards right. After all, as time had shown, campus boys were notorious at picking off the 'fresh meat' that were freshmen and dumping them hard and fast after using them. Johnson was not about to be ousted even before the game started. A week after the two met, he asked Lily out.
"My cousin and I wanted to go shopping around the town and Johnson offered to take us. However, at the very last minute, my cousin couldn't make it and I ended up going with Johnson. Instead of going shopping, we ended up at Thompson's Falls where he flat out asked me to be his girlfriend," says Lily adding they've been inseparable ever since.
Like any other couple, they have endured several challenges. Being from the Kikuyu and Kalenjin communities, which faced heightened tensions during the 2007/2008 post-election violence, many thought their relationship would not survive.
"We both knew that we wanted to be with each other and while I was living in Nakuru and Johnson in Nairobi, he used to call everyday to ensure we were safe given Nakuru was one of the volatile areas," articulates Lily.
Additionally, as far as marriage is concerned, parental consent is key. The only problem was Lily had never really told her parents that she was in a relationship and when she did, it was only after her mother stumbled across Johnson's picture in her purse when Lily was in fourth year.
"As far as my parents were concerned, dating and studies were never a good match. However, after my mother discovered Johnsons' picture, I had to come clean. She was skeptical but trusted me enough not to harass me over it," she explains.
Her father, on the other hand, despite meeting Johnson during Lily's graduation ceremony in 2010, was never clued in to the fact that he was the man his daughter was seeing until the couple's marriage negotiations started in 2011.
"We decided to settle down in 2011 but since we did not have money for traditional marriage ceremony, leave alone a wedding, we decided to seek our parents' consent to allow us to live as man and wife. Lily was also pregnant with our first child, Moses Muhoro," Johnson clarifies.
According to Kalenjin customs, Johnson's parents paid mwaita, a token to unite Lily and Johnson's families. In February 2012, Lily's parents finally released her to join Johnson in Nairobi as his wife. Lily's father however insisted that the couple at some point had to exchange their vows in church. For Johnson, it was something new.
"Marriages in my family are purely a customary thing. However, I was keen to uphold the promise I made to my in-laws so plans to have a church wedding started taking shape," he explains.
In October 2015, the couple fulfilled their customary obligations through the Kalenjin traditional engagement, Koito, which laid the groundwork for a wedding. On May 21, 2016, Johnson fulfilled his promise to Lily's parents. With a budget of Ksh 750,000 and before 700 guests, the couple exchanged their marriage vows at the Parklands Baptist Church in a colourful ceremony. Their reception was at the church's grounds. They are grateful to their parents, family and friends who ensured the event was successful.
Published in August 2016