5 rules for accessorizing correctly
Picture this: You get to a dinner in lovely restaurant only to realise you might have messed up your look with the wrong shoes, handbag or necklace and it's too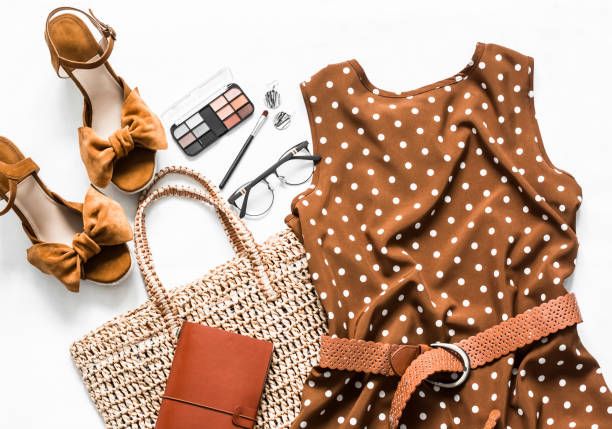 Picture this: You get to a dinner in lovely restaurant only to realise you might have messed up your look with the wrong shoes, handbag or necklace and it's too late to change. Naturally, you would feel bad because you likely took time to put together the look.
However, we live and we learn, especially when it comes to pairing up accessories. When adding some spice to our outfits with accessories such as jewellery, bags/handbags, shoes, watches, scarfs, headwraps or hats, we might either do too much or too little and end up not doing justice to the outfit.
So, how do you accessorize correctly?
The best tip when it comes to fashion is to take some time to research the look you want to go with. Look for what goes best with your body type, height, skin tone and the season you are in, especially when it's for an occasion.
Before putting on that dress or pair of ripped jeans, a quick search on the internet will give you many options to explore with your accessories. Here's what you need to keep in mind:
1. Accessories don't have to match
pintrest.com
The unwritten rule that accessories have to match in colour, texture and styles is old and overdone now. Nowadays it's more of complementing colours and style, without overwhelming the look.
The idea is to stand out in a flattering way. Don't forget to portray your personality by playing around with shapes and colours and try on a few things before settling on one. Avoid simply wearing certain items or colours just because it looked good on the model.
A good tip is to have several classics at hand such as dainty stud earrings, a watch and leather bag that goes with several outfits.
The truth behind waist beads and why women wear them
When I was young, people who spotted dreadlocks were generally considered to bethieves and weed smokers. In fact, if you brought a friend whose head was merelyshaggy home, your irate parents would tell you your thieving friend might makeaway with the family TV set. Now grown and spotting some lo…
2.Don't forget the purpose of the outfit  
pintrest.com
When dressing, many end up forgetting the reason for putting together that outfit. As surprising as that might sound, it happens. People sometimes start with putting together a casual look for a Saturday cookout with friends and end up walking out of the house looking like you're going for an award show.
You might be looking nice but it would feel awkward to have pointy heels and heavy jewellery for a simple backyard event. Therefore, always keep in mind where you are going when picking your outfit and accessories.
On the same note, if there is a dress code, adhere to it as it makes planning your outfit and accompanying much easier because you could get many ideas online.
3.Avoid having an accessory 'graveyard'
pintrest.com 
Just because that scarf or hat looks super cute or you think that necklace would look good on you too because your friend rocked the same, it does not mean you need to buy it.
Make your purchases personal or intentional or else it will just end up in that accessory drawer or behind the closet and never be worn because you felt different about it once at home.  
Buy shoes or belts that you feel drawn to in a good way. It should be more than the " it's so beautiful" feeling; you should be able to picture yourself wearing it every day with any outfit. Aesthetics might be great but functionality should not be forgotten.
Additionally, having a myriad of options might get confusing when it comes down to picking one for the day.
Future of the fashion runway
In a groundbreaking move, fashion label Hanifa has put up a virtual fashion show[https://www.instagram.com/p/CAk_iQsgzVw/?utm_source=ig_web_copy_link] duringlock down. The fashion show has seen the use of 3D models. Could this be thefuture of the runway? Is this the solution to the runway busines…
4.The bulky look is not cute
pintrest.com
Jewellery and any other accessories should complement your outfit; not overwhelm it. Therefore, avoid wearing too many bulky pieces together. If you do, a general rule is three at most on your body at the same time especially for day-to-day. It's better if they all are different pieces and have complementary colours. They will blend better with your outfit and the size will not be distracting.
8 things to remember when wearing a headwrap
The best thing about headwraps is that they can be worn by everyone regardless of their age or social status.
5.Work with what works with you
pintrest.com
While you should be free to explore your style, take note that you want things that complement you. For instance, for a short person, a chunky belt might not be the best as it could make you look shorter. Therefore, if you like belts,  try the simple and thin kinda as they will bring out your curves better. You could even do research on this things even before shopping so that you have a better idea of what would work with your body type, skin tone etc.  
In conclusion…
Putting accessories on an outfit can be very fun and flattering when done well. Turning a simple outfit into a classy one as well or adding some colour with red hot heels to that all black formal outfit could be one accessory away.
This October, Parents magazine brings you an exciting new issue that's all about your health!
We talk to Professor Lukoye Atwoli and his wife, Maureen, as they tell us about their love, family and trying moments, including a cancer diagnosis. They also reveal their plans on addressing mental health-related issues in an enlightening read. Also read about Sharon King'ori who unknowingly shelte…
Featured Image by istockphoto.com