Matiang'i declares Kapedo a disturbed zone, sets dusk to dawn curfew
Interior Cabinet Secretary Dr Fred Matiang'i has on Monday said that he will gazette a dusk to dawn curfew (6 pm-6 am) in Kapedo. This is aimed at reducing insecurity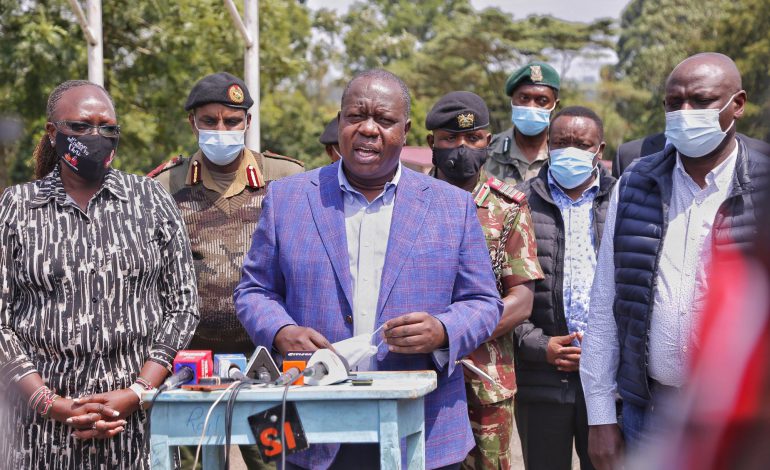 Interior Cabinet Secretary Dr Fred Matiang'i has on Monday said that he will gazette a dusk to dawn curfew (6 pm-6 am) in Kapedo.
This is aimed at reducing insecurity in the area which he has termed as a 'disturbed zone'.
"A dusk to dawn (6 pm-6 am) curfew will be effected in the Special Operations Area of Kapedo as security services escalate the ongoing operations to disarm and flush out criminals in the area," Dr Matiang'i said on his Twitter page.
Fire razes down Kimulot Boys dormitory
Some of the items that got burnt include blankets, mattresses, bedsheets, books and other items belonging to students.
10 lives have been lost in the past month due to the insecurity in Kapedo. Thursday last week, two police officers were shot and killed in an ambush. The two were the chief inspector who was the head of the Rapid Deployment Unit in Kapedo and his driver. Their convoy was attacked at a bridge at the boundary of Turkana and Baringo counties.
A senior General Service Unit officer was also shot and killed in the same area on Sunday. The GSU officer and his colleagues were ferrying food from Nakuru to a camp in Kapedo when they were attacked at around 4 pm.
Tiaty MP William Kamket was arrested over the clashes but later released on bond.
Arsonists set ablaze 5 churches in Kisii
The arsonists' intentions are not clear. They leave an amateur drawing of two people and a cross as their sign, after an attack.
Investigations revealed that traditional leaders in Kapedo had organised bandits for a ritual ceremony in the area. The Inspector-General of Police, Hillary Mutyambai began an operation in the area and promised not to rest until all the elders who had administered the oath and sent off the killers were brought to book.
"This operation will be extensive and sustained as we meticulously comb through every nook and cranny in the area until we find the last criminal," Mutyambai said.
Dr Matiang'i on the other hand urged the locals to work closely with security officers to curb the rampant attacks in the area.
Featured Image: Interior CS Dr Fred Matiang'i speaking at a past press conference. [Source: Dr Fred Matiang'i/Twitter]
Parents Magazine ePaper
Read an ePaper copy of Parents Magazine. Caring for you and your family.