10 tips to decorate your hallway
The hallway forms the initial impression of a house. Unfortunately, hallways and entryways are sometimes disregarded, despite setting the decorative tone for the rest of your home. A combination of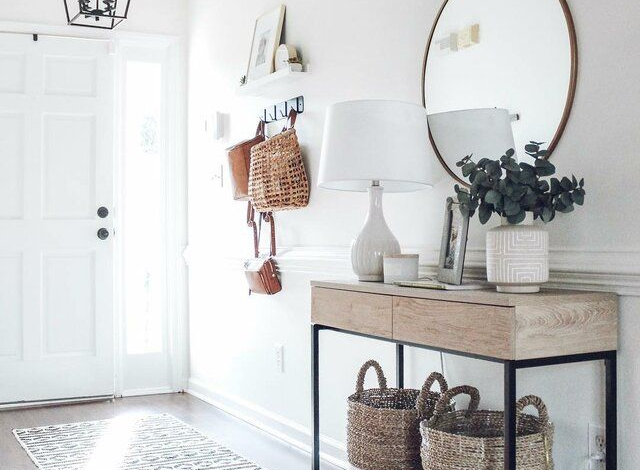 The hallway forms the initial impression of a house. Unfortunately, hallways and entryways are sometimes disregarded, despite setting the decorative tone for the rest of your home.
A combination of functional storage and design expertise may transform this transitory area into an inviting spot to linger, regardless of size.
Here are tips to help you decorate your small hallways:
Use Mirrors
Mirrors make a room appear larger than it is. Since hallways are typically small and narrow, a framed mirror can make your hallway look spacious. The framed mirror also makes stunning wall decor.
You can also place a mirror above your console table. Your hallway will look both sophisticated and stylish.
Add a console table
If you have a small space, consider placing a small console table or chest of drawers in the hallway. Find one with storage, or use the area underneath to store shoes, bags, and other items you frequently trip over on your way out the door.
Add indoor plants
Adding plants to your hallway will bring vibrancy. Indoor hallway plants can also aid with air purification and promote a relaxing atmosphere.
Choose a colourful planter or plant stand to make a more striking statement. You can either place the plants on the floor or mount them on the wall.
Build a mounted wall bookshelf
If you want a library but have a small space, you can create a bookshelf in your hallway. A wall-mounted floating bookshelf will look great and make a great first impression on your visitors.
Use a wallpaper
Wallpaper is available in a variety of designs, patterns, and colours. It has an immediate impact.
Getting a bright wallpaper will breathe life into a dull, boring hallway. While choosing a wallpaper, pick one that suits your house theme.
Add canvas paintings
Canvas paintings look fantastic in any room in the house. Putting one in your hallway will make the space appear lovely. It will also make your hallway more colourful and brighter. You can hang a striking painting and keep the walls a neutral colour.
Use a macramé wall hanging
Accessories for wall art include macramé wall hangings. They are both stylish and elegant. They make such beautiful hallway decor because of their simplicity. You can use a neutral macramé wall hanging to make your hallway look nice.
Use wall decals
A hallway is an inviting passageway into your home, so decorating it with a fabulous wall decal or sticker is a fantastic idea. It will transform a dull hallway into something beautiful.
Paint your hallway
You can paint your hallway using different shades of colour. Using bright colours will help your hallway look amazing and lively.
ALSO READ: Bedroom decor: How to glam your bedroom
Make a Gallery Wall
Hanging family portraits, photos, and artwork is a simple way to personalize your hallway. Use complementing frames in the same color to produce a unified look.
Decorating your small hallway doesn't have to be expensive. By being creative, you can transform this space to look beautiful and stylish.