A love story from a choir encounter
Dalphine and Shadrack Onyango's love story serves as a poignant reminder that true love can be found in a single glance.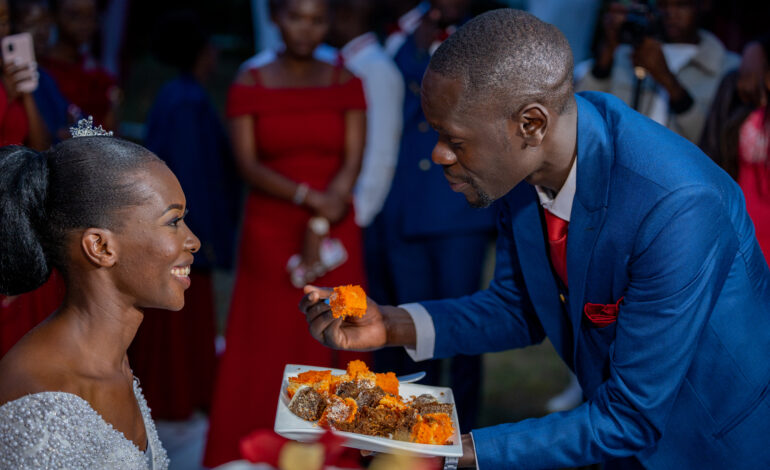 The couple, blessed with a son, share with CECILIA ASHIOYA their journey of love and how they overcame relationship challenges to build a beautiful life together.
In March 2019, Dalphine attended a choir practice at the behest of a friend and this is where she encountered Shadrack for the first time. She was captivated by his striking appearance and magnetic presence from the moment he entered the room.
"The aura in the room changed when Shadrack walked in," she recalls.
This chance meeting marked the beginning of a journey that would leave an indelible impression on both of their lives.
The couple began their dating journey in June 2019. Shadrack always considered himself a ladies' man. He tried to make a move on Dalphine on their first encounter without much seriousness to it and it backfired. Dalphine saw through his attempts and promptly turned him down, saying, "I know your type, and whatever you are looking for you will not get."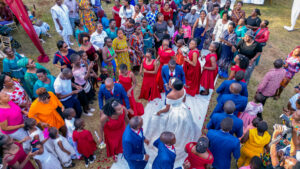 Shadrack confesses to having gone home a disappointed man because this was the first time he had been turned down by a lady. But over time, he knew he had fallenin love with Dalphine and was determined to win her heart
"My love for Dalphine grew to a level where it became all-consuming. I was head over heels in love with her," he recounts
He also recalls a time he arrived late for an event at Karura Forest and was captivated by Dalphine's kind-heartedness when she shared her snacks with him.
On her part, Dalphine says she appreciated Shadrack's respectful and considerate nature towards other people, qualities that always stood out whenever they were together. It is this mutual admiration for each other's values that eventually blossomed into a deep and meaningful love.
Shadrack and Dalphine started their journey to marriage in March 2021 when he introduced her to his family and she was warmly welcomed. But they encountered a few hitches during dowry negotiations as the ladies could not agree, owing to divergent tribal and cultural backgrounds. The situation escalated to a point where it threatened to break up the couple. They found a common ground when a decision was reached to base the negotiations on their Christian values rather than sticking to traditional practices.
"There was so much financial pressure during the dowry negotiations. People's tempers rose as they tried to reason out with one another but all in all, the ending was a happy one and worth it," Shadrack says.
Shadrack and Dalphine exchanged marriage vows on October 16, 2022, at the Nairobi Central Seventh Day Church They had planned for a guest list of 300 to 400 people but were pleasantly surprised by an overwhelming turnout of 700 people. Despite the numbers, the caterer did an amazing job and all the guests were well-fed within the budget.
"We had an incredible caterer who was accommodating and also understood that guest numbers could go up, especially in a Seventh Adventist Church I would recommend them any time." Dalphine: says
The couple used their saving to fund the wedding but also received financial assistance from their parents, friends, and the church.
Shadrack and Dalphine faced a myriad of obstacles during their courtship including occasional communication breakdowns, personality differences, and periods of unemployment. Nevertheless, they persevered through these challenges and remained deeply devoted to each other. By actively addressing their issues and seeking common ground, they were able to overcome the difficulties and strengthen their relationship.
"When we are faced with misunderstandings, we make a deliberate effort to communicate effectively, pray together and for each other, and also try to understand and appreciate each other's weaknesses." Shadrack says.
The couple says that their experience highlights the importance of resilience, open and honest commumication, mutual support, and seeking counsel from trusted advisors during challenging times in a relationship.
"We also value honesty and seek guidance from our appointed mentors," Dalphine adds
Their love story serves as a reminder that sometimes the path to true love may have a few bumps along the way, but it's always worth it in the end
The couple has learned to practice patience and effective communication in their marriage. They prioritise loyalty. honesty, and working together to turn their weaknesses into strengths.
"Every couple should be willing to speak honestly about their weaknesses because love encompasses those weaknesses, especially in marriage. Further, one should help their partner become the better version of themselves," Dalphine emphasizes
The couple's advice to those in relationships is to seek guidance from God throughout the dating process to avoid emotional harm; exercise patience, and have a clear idea of the type of partner they desire.
Further, the couple recommends communicating as a team, praying together and for one another, and managing finances together. They also stress the importance of honesty and taking the time to fully understand a partner before making a commitment. Finally, they advise spending time in each other's homes to promote complete acceptance and understanding of one another.
Image Courtesy: Shadrack and Dalphine