Financial difficulties in higher education apparent during award of Chinese Ambassador Scholarships
Despite the existence of the HELB, education funding in the country remains a challenge for a significant number of Kenya's young people.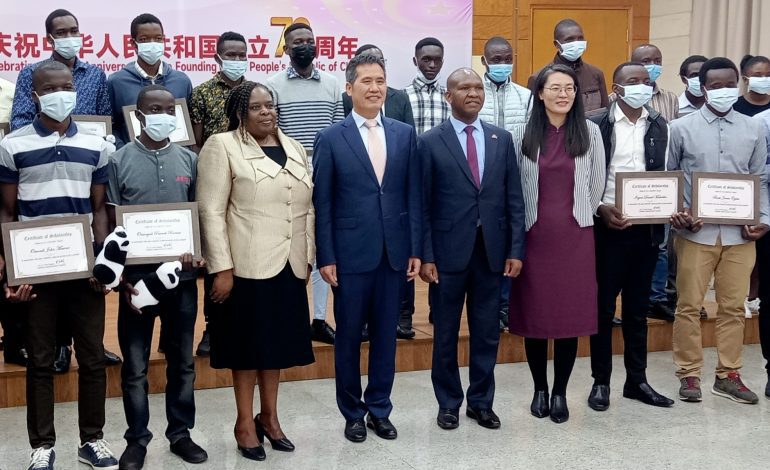 Imagine passing your national exams and being accepted to your dream university to pursue your first choice career, then almost missing the chance because of fee constraints. This was the situation in which Mariah Wanjiru found herself five years ago.

The firstborn in a family of five scored a grade B in the Kenya Certificate of Secondary Education (KCSE) examinations which earned her a chance  to pursue a Bachelor of Commerce program at the University of Nairobi (UoN). Unfortunately, having witnessed her jobless parents' difficult financial situation in Nairobi's Mathari informal settlement, where she was born and raised, she knew going to school was going to be impossible.

"I did a number of jobs including being a house help, being a cleaner in a chemist, and doing a marketing job at a bank. Because there were challenges I used some of my earnings at home but I still saved some amount, "she narrates.

After a whole year of being out of school, Wanjiru finally took herself to UoN. Before that, she had applied for aid from the Higher Education Loans Board (HELB), a state corporation and leading financier of higher education in the country. She had expected that the funds received would top her savings and pay her first-year fees as the university required. However, the money was delayed, making it hard for her to complete the registration process.
"I remember the first day was very tricky. I had nothing. I just took myself like that with my documents. With the money I had, I paid school fees. I came with that receipt but I was expecting the four thousand shillings from HELB to complete my payment," she recalls.
With the loan not forthcoming, Wanjiru then resorted to calling friends to ask for a loan. Unfortunately, everyone she called said they did not have the money then. She could not believe that her dream to go to the university was being frustrated by a mere four thousand shillings. In desperate need of funds, she turned to mobile money lending apps, where she was fortunate to receive the entire amount and . complete her registration.

" I went and paid. I then went back to the university and I was given a room and I was told-you can start. I went back home to start looking for bedding and other shopping," narrates the 24 years old.

Wanjiru's story is not unique. Hundreds of miles away in Webuye, Bungoma county, Ngozire Wakhungu is in a similar situation. His predicament began when his mother died while he was in form one at Kitale's St. Joseph Boys High School.

The firstborn in a family of eleven says that the death of his mother was a devastating blow to his family as his father became the sole provider of the family. Paying school fees, on top of buying food and other essentials was not easy for his father.

"I did my form one quite smoothly because father had some savings for us but beginning form two, three, and four it was a roller-coaster kind of academic because most of the time I spent my time going back home to fetch school fees," he told Parents magazine.

Luckily for Wakhungu, he received a long-term government scholarship that alleviated some of his troubles. The challenges he faced in his studies did little to deter his determination and he managed to score a grade of B plus 72 points in his 2017 KCSE exams. His grade earned him a spot at the University of Nairobi to study law.

"I joined UoN in 2019 February on 5th to study bachelor of law. I came to Nairobi alone and I had no connection. I did not know anyone here because my father works in Kampala and our family lives in Bungoma," he says of his troubles navigating the country's capital city.

He would later make friends with whose assistance, he completed enrollment. Even though his father paid his first-year fees, he never provided for his basic needs. That disrupted his academic life, forcing him to return to the village and look for work in local factories to support himself and his siblings as they completed their basic education as he wanted them to be at least as educated as he was.

"I literally struggled to cope with life in university so unfortunately, I had to drop out. I can say that I lost a gracious chance to pursue my law degree. A degree that I had been dreaming of since I joined the school," he reveals.

After being in the village for a while and seeing his siblings struggle, Wakhungu gave up on pursuing his degree but things would soon change for the better.

"Just before we went for the election, I received an extraordinarily gracious call from my friend who told me of a scholarship opportunity for university students who are going through economic constraints," shares the 23-year-old.

The scholarship required a recommendation from the dean of students and so Wakhungu travelled to Nairobi. Once done with the application, he went back home to wait for the outcome. Interestingly, when he received the call to offer him a full-year scholarship to UoN, he was in disbelief.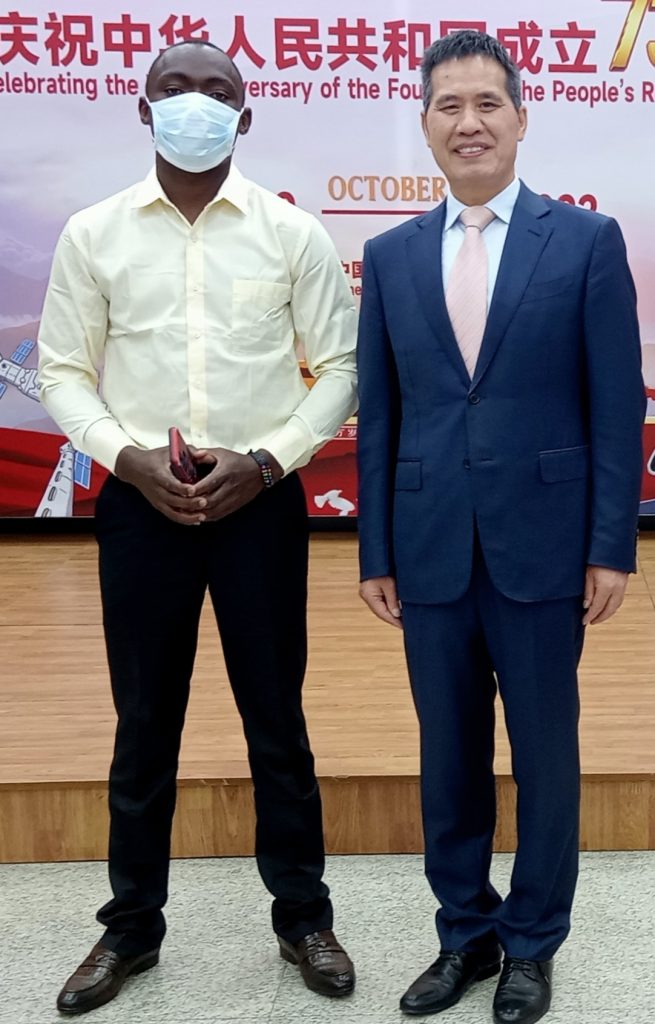 "I did not believe it in the first place. I had to call another lecturer to confirm if I had qualified and he said indeed I qualified, I am on the list," recalls an excited Wakhungu.

With the scholarship, he will continue his studies while assisting the needy in society's pursuit of justice. He hopes to provide legal aid to those who need it and especially those imprisoned on false charges.

Despite the existence of the HELB, education funding in the country remains a challenge for a significant number of Kenya's young people. Most of these students' academic journeys have been at the mercy of well-wishers, government learning-supported programs, and local and international scholarships.

For example, Steven Oduor is a UoN student pursuing a bachelor's degree in Quantity Surveying. He says that being raised by a jobless single mother after his father died when he was three years old has made funding his education extremely difficult. He says that after finishing primary school, he got a sponsorship to attend Rang'ala Boys High School in Siaya because his mother could not afford his fees.

"When I was in form one, I received a scholarship that covered the whole high school. There was no one to pay the fees after the transition. So we had to cut down trees at home, and I had to do manual labour here and there to save money. It also had an impact on my decision to join. I joined about a month late because of that," Oduor, 23, says of his struggles with fees.

Johnson Kinyua, Dean of Students at UoN, says that most students have untapped potential that needs someone to aggravate. To accomplish this, he believes that apart from financial support, there is also a need to mentor, coach, and embrace the students. He says there are numerous cases of students with financial difficulties at the university who deserve someone who can financially support their academics. He says the university is seeking assistance from alumnae, well-wishers, students, and staff to help some students through the UoN students' fund.

"Once we have that fund, which we are aiming for a hundred million shillings, it will help unlock the potential of those needy cases across the country so that when you are admitted to the university and you have no money, you are guaranteed that you will start and finish successfully." Mr Kinyua told Parents magazine in an exclusive interview.

Mr Kinyua says that the university has a financial aid office where students who don't have fees register. When the institution receives financial assistance that aims to support students with arrears, the committee in that department takes such instances under consideration and records them.

Such initiatives saw 25 university students receive a prize worth Ksh. 100,000 of the Chinese Ambassador Scholarship Program for 2022–2023. They were out of more than 200 students from various universities around the nation who applied for the scholarship. At the UoN, there are currently 113 recipients of Chinese Ambassador Scholarships.

"The scholarship you have given our students is one of the most impacting and revolutionizing aspects of our education. As you know the country will never grow without the aspect of education," Mr Kinyua said noting that educating youths contributes towards the development of the manpower that the country is gearing to achieve the country's 2030 vision as well as the Africa Agenda 2063.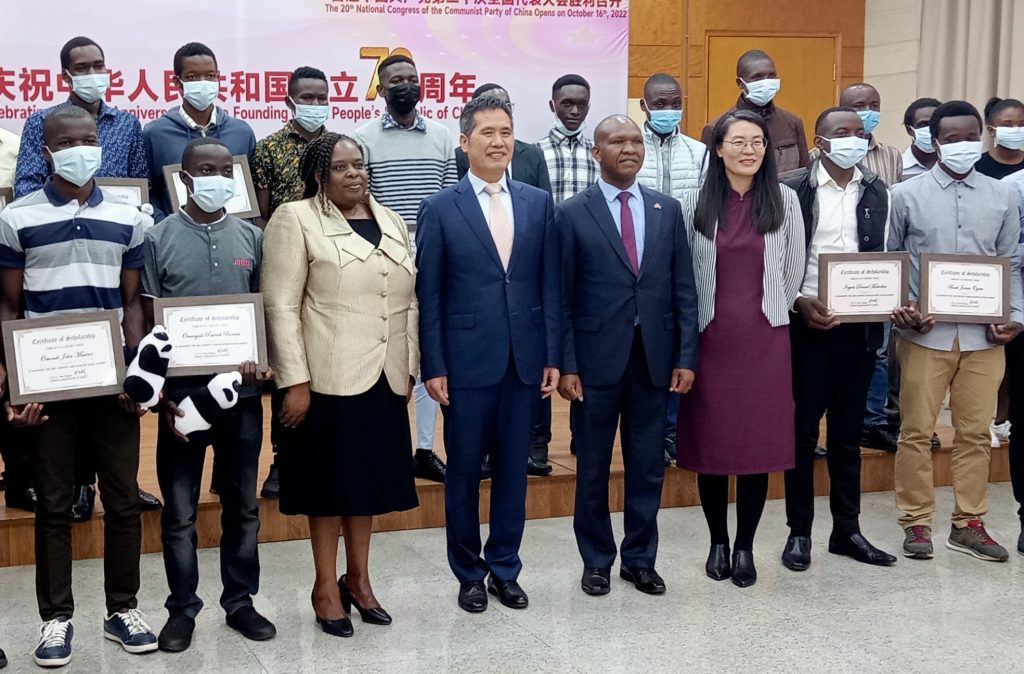 Speaking during the ceremony which was held at the Chinese embassy in Nairobi, Chinese Ambassador to Kenya Zhou Pingjian expressed hope that the recipients would promote the friendship and cooperation between China and Kenya.
 Wanjiru, Wakhungu, and Oduor are among the recipients of the Chinese ambassador scholarship program-2022/2023 and they are more than grateful.
"As a fourth year, I didn't know how to fund my fourth year. As a result, this scholarship has come in handy. I sincerely thank the Chinese Ambassador for this wonderful award," Oduor told Parents magazine.

"I'm motivated to fight poverty. I've lived in poverty, and let me tell you, I don't want to live in poverty when I finish school; I want to live a changed life and give back," says Wanjiru.

Since its establishment in 2013, the Chinese Ambassador Scholarship program has assisted 344 regular government-sponsored students in Kenya.
Grab an exciting copy of Parents Magazine HERE