Samuel Boiyo: Living with mental illness
Samuel Boiyo Ngige has been receiving mental health treatment for about twenty years. His journey has seen him stigmatized and mistreated by members of the public who do not understand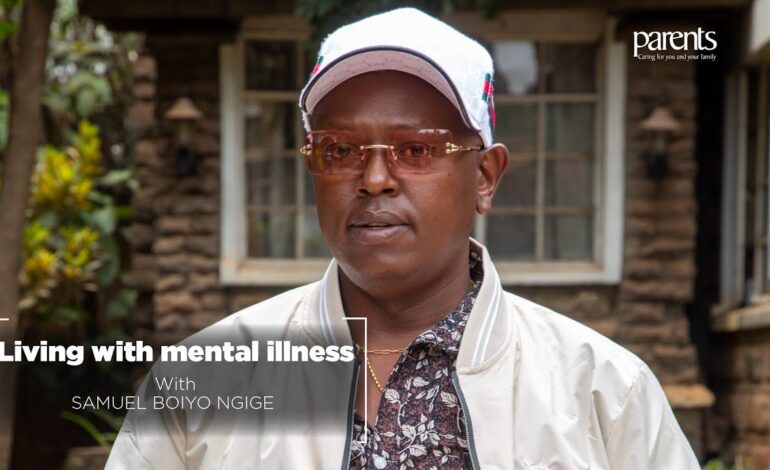 Samuel Boiyo Ngige has been receiving mental health treatment for about twenty years. His journey has seen him stigmatized and mistreated by members of the public who do not understand him and, at one time, was arrested. He shares his experience of living with mental illness with TEBBY OTIENO.
Samuel was born and brought up in Nakuru's Elburgon area. He was enrolled in a primary school near his home. His academic journey was off to a good start with little to no incidents. However, this journey would be interrupted later by on-and-off health problems that kept him out of school frequently.
"I missed lessons many times because I would complain of stomachache every time I woke up in the morning, and lacked energy and zeal to go to school," he narrates, adding that neither his parents nor his teachers understood him.
As his condition deteriorated, he dropped out of school while in form two. His decision to drop out was not received well by his parents who suspected that he was using alcohol and bhang. All the while, Samuel did not lose hope and visited various health facilities in his area to find out what was ailing him. Unfortunately, he didn't get a proper diagnosis. His way of coping was keeping away from people whom he felt didn't understand him.
"I would lock myself in my room not wanting to get out of bed. I didn't have a bath for days on end and was not motivated to do anything," he says of his struggles.
Mental illness diagnosis…
As his health deteriorated, his physical appearance took a hit and people in the community started pointing fingers at him, while some feared interacting with him. In fact, from his recollection, there were times people ran away when he approached them. He took all this in his stride. But when some villagers chased him away whenever they saw him, claiming he was going to burn their homes, he couldn't take it anymore. He left home to head to Nairobi, where he reasoned no one would recognise him. However, despite changing the environment, his suffering persisted.
He was later taken to court and the magistrate ordered that he be taken to Mathari Mental Hospital to have his mental health checked. The psychiatrist's report presented to the court revealed that he had a mental illness. The court found him not guilty and asked that he gets medical assistance.
The treatment journey…
Samuel started treatment at the Mathari Hosp. He st gled to keep up with the treatment, as he often forgot to take his medication and he did not have a support system to even remind him to attend clinics regularly, as ordered by the doctors. He eventually moved back to his parent's home but there was also not a lot of support as they were not aware of his mental illness. Also, traveling to Nairobi to seek treatment was difficult without money and he would often miss doctor's appointments.
After several hospital visits, his family members gradually came to understand his condition. Their support encouraged him to stick to the doctor's advice and take his medication regularly.
"With the encouragement from my doctor and assurance that my condition will improve if I took my medication, I slowly began to take his advice seriously. I told myself that I didn't want to be admitted to hospital and also didn't want people avoiding me, so I stuck to my medication," he explains.
Looking back at the twenty years he has been on medication, Samuel, now 38 years old, says he has seen a lot of improvement in his condition and progress towards a normal life. First, he is happy that people now relate well with him, both in the village and in Nairobi. He is also happy that he now takes his medications without waiting to be reminded.
Samuel says that the country has made a lot of progress in dealing with mental health. Unlike when he began treatment. there are now more psychologists and psychiatrists. He can now walk confidently into Mathari Teaching and Referral Hospital and request counseling services and get them. He is also happy that the new mental health law, signed by former President Uhuru Kenyatta, has elevated the status of people suffering from mental illnesses. He adds that NHIF now pays for his treatment, which has been a huge financial relief to him and his family.
"The cost of treating mental illness is high and often patients suffer because they do not have access to treatment. Many times my parents could not afford to give me money to travel to Nairobi to get my medication. In those instances, I would strip naked, shout and sing loudly, and also engage in very disruptive behaviour. Of course people did not understand and I was treated like an outcast. Now that I have proper medical care, I don't suffer from those episodes anymore," he explains.
Adapting to hard economic life…
Samuel relocated from his home in Nakuru to live in Nairobi, as the distance was disrupting his treatment. He now lives conveniently near the Mathari Teaching and Referral Hospital and he is able to attend all his doctor's appointments.
His relationship with the doctors has remarkably improved, making his treatment journey more bearable.
He also started a business with encouragement from psychologists at the hospital who advise mental health patients during counseling sessions not to be idle. He started by buying handkerchiefs from Gikomba market and hawking them. His first customers were people within the hospital premises. With time, he saved some money to expand the business. He has expanded to selling jewelry, such as earrings for ladies. The proceeds from the business enable him to buy medication without relying on other people.
Since accepting his condition and adhering to taking medication and attending doctor's appointments, he is able to live an independent life. He encourages people with mental illnesses to take their medication, as this definitely changes life for the better.
"If you are taking medication and are not seeing improvements, don't stop. See a doctor who may change your dosage or prescription, after examining you." he advises.
He urges society not to judge or stigmatize those suffering from mental illnesses, but instead support them. This support will go a long way to make life better for them: and also help them integrate into society.
Samuel has also become an advocate for mental health and he spends time at the Mathari Hospital talking to and encouraging other patients.
"I get very happy when someone I helped calls me to tell me they were feeling better after following my advice and sticking to their medication," he says, as we conclude this interview.
This story was first published in our volume 10 2022 issue: https://epaper.parentsafrica.com/issues/october-2022